During The Fallen, I learned the shout that calls Odahviing, thus allowing me to summon that particular dragon as an ally in battle. Although the original exchange between the Dovahkiin and Odahviing involves a certain degree of trickery, the Call Dragon shout does not actually subvert the will of the dragon. Odahviing responds to the call first out of curiosity and hubris, and after Dragonslayer he responds out of respect for the power of the Dovahkiin's superior Thu'um. In other words, Odahviing's response to Call Dragon is (from a role-playing perspective) voluntary.
The Dragonborn DLC adds a wrinkle to the Call Dragon shout with the introduction of the Bend Will shout. Using Bend Will allows me to force any dragon, hostile or otherwise, not only to fight alongside me, but also to allow me to ride it as my temporary steed.
The use of this shout evokes a minor ethical question: is it morally acceptable to compel an enemy to fight on your side? On the surface, the question might seem frivolous; after all, if killing a dragon is acceptable, why wouldn't bending its will be as well? This question, however, pits the value of autonomy against the value of life.
In a warrior culture such as Skyrim's, is it more honorable to kill an enemy than to rob him of his will?
Additionally
, is it acceptable to force a dragon, even a hostile one, to let you ride him like a horsey?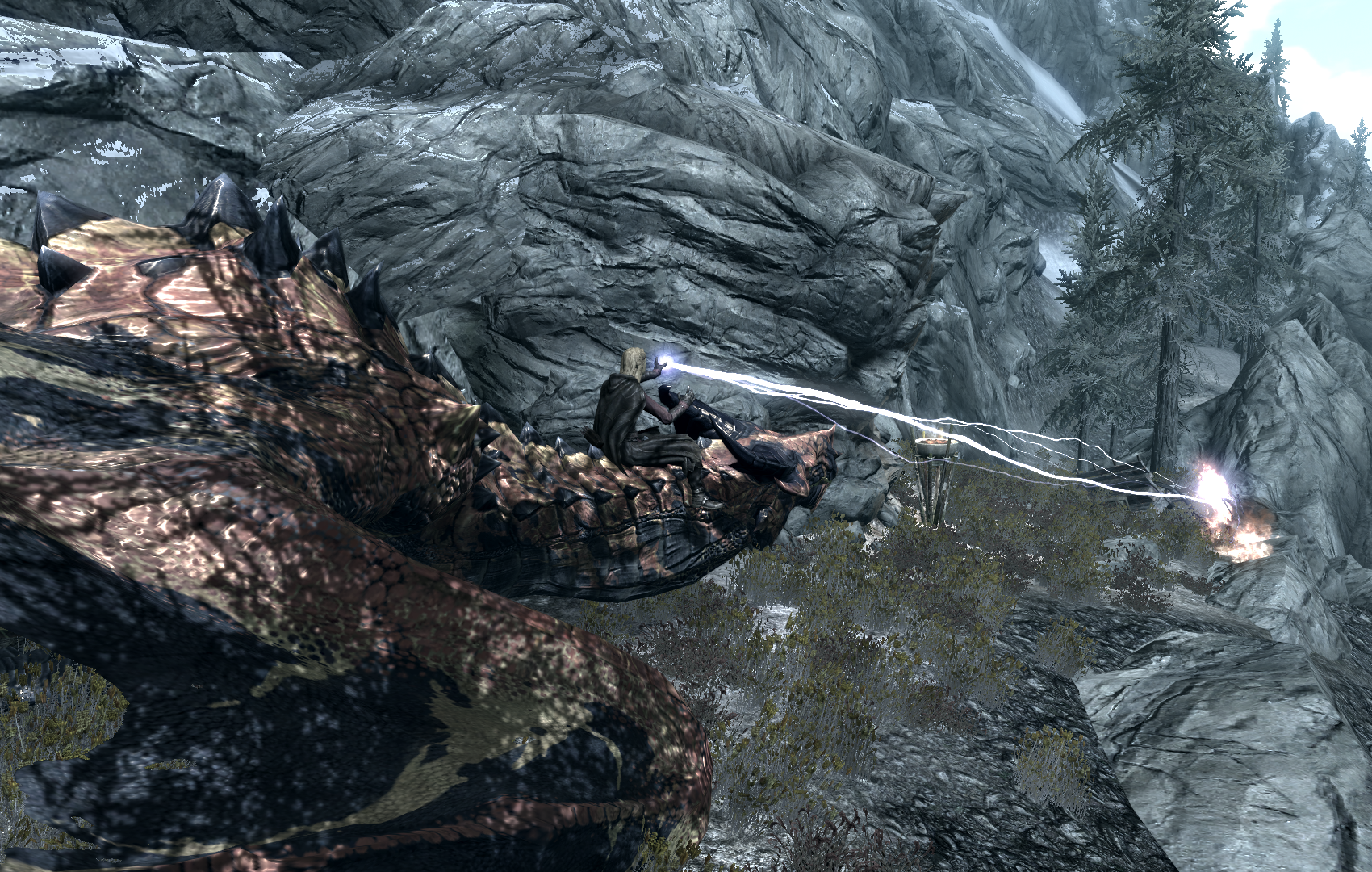 WHEEEE!!!
As it relates to The Fallen, the question is moot; one cannot defeat Alduin without Odahviing's help.
After this quest, however, the question becomes more active because the Dragonborn can use the same shout at will to summon Odahviing, then use Bend Will to ride him. Odahviing, it seems, volunteers to fight alongside me, but must be forced to act as a steed; one is the act of an ally, the other is that of chattel. Odahviing's ride to Skuldafn is a one-time offer born of his desire to be rid of Alduin, not an open-ended invitation.
Furthermore, the end of the Main Quest reveals that not all of the dragons share Alduin's views; once Alduin is defeated, Paarthurnax promises to teach the pacifist Way of the Voice to all of the dragons he can convince, and in fact, at the Throat of the World, dragons can be seen celebrating the World-Eater's fall.
Therefore, compelling Odahviing or any other non-hostile dragon to fight for me or give me a ride seems unjust.
For Lothar, I decided that the most appropriate route would be to avoid using Bend Will unless absolutely necessary.
As for what constitutes necessity, I offer the following checklist:
I will not use Bend Will on Odahviing.
I will not use Bend Will on a dragon that is not attacking me or any other "good" NPC. In other words, I won't interfere if a dragon is battling a giant, a bandit gang, or a cluster of mudcrabs.
I will not use Bend Will if a dragon attacks only me while I'm outside of a populated area. In that case, I will simply fight.
I will use Bend Will if a dragon attacks a populated area. I will use Bend Will, mount the dragon, then fly to a remote location. If, after I release the dragon, he simply flies off, then so be it. If he continues to be hostile, then I will fight him.
This arrangement allows me to use Bend Will as a means to save lives, rather than a way to dominate my enemy. After all, riding dragons as steeds was the trademark of Miraak -- not someone I really want to emulate.