NOTE: As I have pointed out a number of times, my writing is far behind my playing – a fact that I present at the beginning of this post by way of disclaimer.

I know that many readers will most likely be put off by my handling of the Dark Brotherhood questline, and will protest that by choosing to destroy the Dark Brotherhood, I missed out on one of the most well-written questlines in the game. Please rest assured that I actually did play through the DB line with a different character -- one that I created a couple of months ago as a counterpoint to Lothar. I'll detail her moral profile in later posts, but for now, please rest assured that I have not missed out on this fascinating and dramatic series of quests.
After I became a Nightingale and completed the Thieves' Guild questline, I turned my attention to the quest I had been dreading: Innocence Lost. I had heard about Aventus Aretino during my early days in Riverwood, but didn't visit him until I traveled to Windhelm during the Civil War questline. When I entered the house, I was treated to the most disturbing scene I had witnessed since Helgen: a young boy performing the Black Sacrament: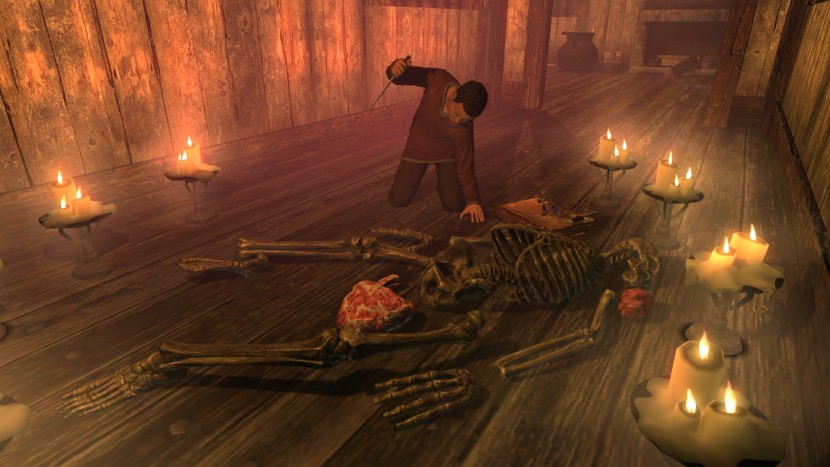 I don't want to think about how he got that stuff.
Mistaking me for the assassin he was praying for (perhaps because i was still wearing my Krosis mask), Aventus begged me to kill the headmistress of Riften's Honorhall Orphanage, Grelod the Kind. He related the tragic tale of his mother's death, Jarl Ulfric's decision to send him away, and his subsequent abuse at the hand of Grelod. When I protested that I was in no way an assassin, Aventus completely ignored my objections and sent me on my way.
Not surprisingly, I procrastinated for a long time before actually visiting Honorhall. The first dilemma was whether to believe Aventus. The child is clearly traumatized, but what if he is projecting his grief over his mother's death onto Grelod? If Aventus' story is not entirely accurate, then killing Grelod would clearly be murder. On the other hand, I'm not sure I want to run the risk of not believing a child who says that he is being abused. But even if Grelod is as bad as the boy says and I decide to kill her, I would be tacitly granting approval to a child ordering a hit. After much deliberation, I decided to find out the real story for myself.
The first time I entered the orphanage, I was treated to a scene straight out of
Annie:
"We love you, Miss Hannigan!"




Ok, so the headmistress really is an awful old crone, but I still don't see anything that would warrant...
...oh...well,uh...never mind.
So, Aventus was, in fact, telling the terrible truth. Given my response to the mistreatment of children in
Laid to Rest
and
Ill Met by Moonlight
, it should come as no surprise that I resolved to kill Grelod. Not wanting to traumatize the kids any further, I decided to sneak in after everyone was in bed. It was an easy kill, but a few things bothered me about it in the immediate aftermath:
As I said before, I was really uncomfortable legitimizing Aventus' use of the Black Sacrament.
When the kids discovered Grelod's body, they were overjoyed. Understandable, I suppose, but pretty sick.
Constance Michel became hysterical. I had no intention of causing her grief, but she really took Grelod's death hard.
The deed done, I returned to Windhelm to report the news to Aventus. As I feared, he took the incident as affirmation that assassination was a perfectly legitimate way to handle a bad situation, even going so far as to express a desire to join the Dark Brotherhood himself when he grows up -- in order to help other children like him! I was deep in the grey zone now.
Not long after our conversation, I received a note from a courier which contained a black handprint and the cryptic message "We know." Having received mysterious letters before (from "a friend" and from Delphine), I assumed that its meaning would be made clear soon enough. I got my answer when I went to bed, only to wake up in an abandoned shack.
With me in the shack was my apparent abductor, Astrid, who was clad in an identity-obscuring set of leather armor. She informed me that by killing Grelod, I had robbed the Dark Brotherhood of a death that rightly belonged to them, and that the Night Mother (whoever or whatever that was) demanded another death to settle the score. I now had my choice of three other abductees whom I could kill in order to fulfill my debt. Despite the fact that they were all bound and hooded, I had the opportunity to interview each of them:
Alea Quintus is a housewife and mother who comes off as an utter shrew. She has no idea why she's there, but her combative and insulting demeanor suggests that she may have irked the wrong person at some point.
Fultheim the Fearless is a mercenary, and is well aware that his profession may have led him to this predicament. He vacillates between abject begging and stammering rationalization -- "war is war, right?"
Vasha is a Khajiit scoundrel who has been "bagged and dragged" before. He admits to all sorts of shady activities, and smirkingly attempts to bargain his way out his captivity -- sometimes even employing vague threats about what "his people" might do to me in return.
I was now faced with a multilayered dilemma. The first question was whether I was going to kill someone at the behest of the Dark Brotherhood. Aside from the fact that I had been attacked by one of their number early in my travels through Whiterun Hold, I had no desire to do the bidding of a bunch of contract killers. The Thieves' Guild might technically be a criminal organization, but at least they restricted themselves to nonviolent crime -- one of the main selling points for some of the ex-bandits in the group. I had to do some real moral gymnastics to rationalize joining the Guild, but there was no way I could justify joining a clan of assassins-for-hire. I decided to kill no one and just leave.
So much for that idea.
Once I discovered that I could not leave, I was forced to deal with the second question: whom to kill? I had no quarrel with any of the captives, so I had to base my decision on their apparent traits. Alea was insufferable, but simply being a shrieking harpy was not enough to warrant a death sentence. Fultheim, by his own admission, had done some bad things as a mercenary, and so might deserve to die, but killing him like this did not feel right; if he was going to die for crimes committed as a soldier, then he should die as a soldier -- in face-to-face battle, which was not an option here. Vasha was by far the most likely choice, especially if you interpret his claim of being a "defiler of daughters" in the darkest way possible. Still, I couldn't shake the idea that Vasha, as a Khajiit, might be attempting to talk his way out of a jam by exaggerating his status as a scoundrel -- a sort of
refuge in audacity
. After all, I had no proof for any of his claims, which is something I would need if I were going to execute a bound "criminal."
There was, of course, one other person I could kill in order to escape: Astrid. That choice made the most sense to me; she's part of a murderous criminal organization that had already tried to kill me once, plus she kidnapped three other people and tried to force me to kill one or all of them in order to settle some weird assassin debt. Of the five people in that shack, Astrid clearly deserved to die. In fact, as dealt the final blow, she whispered, "Well done." Even she knew she deserved her end.
After I killed Astrid, freed the prisoners, and escaped the shack, I reported the incident to the first guard I saw, who directed me to Commander Maro of the
Penitus Oculatus
(the Emperor's personal security force after the downfall of the Blades), currently stationed in
Dragon Bridge
. Maro gave me the password to the Dark Brotherhood Sanctuary and tasked me with eliminating the rest of the clan of contract killers. I gladly accepted.
Compared to the dilemmas I faced in the shack, destroying the Dark Brotherhood was fairly easy. I decided to give them a taste of their own medicine by sneaking in and assassinating each of the members one by one. I probably enjoyed killing them more than I should have, but I think I deserved it after what they put me through, to say nothing of the three other people they kidnapped.
As I often do, I perused the wikis after completing this questline and came away feeling even more justified in my actions. Had I chosen to kill Vasha (my most likely choice), I would have had to kill a number of other innocent people in order to advance -- people like Narfi, the poor, grief-addled beggar of Ivarstead. Ultimately, I would have had to kill the Emperor himself -- truly an awkward situation for the man who helped win Skyrim for the Empire. Besides, a Dragonborn like me would probably have inspired many more contracts had I let the Brotherhood live.

I also feel the need to point out the fascinating predicament Bethesda puts the player in. Note that the introductory murder is of someone who clearly deserves to die. Had the initial victim been, say, one of the people in With Friends Like These..., I doubt I would have even started this quest.