After completing Waking Nightmare, I returned to my original objective in Dawnstar: visiting the Mythic Dawn museum. When I finally met the curator, Silus Vesuius, I learned that the Mythic Dawn had been the cult of Mehrunes Dagon, Daedric Prince of Destruction, Change, Revolution, Energy, and Ambition; in other words, the group most directly responsible for the Oblivion Crisis that formed the basis of
The Elder Scrolls IV: Oblivion.
The fact that Silus was so proud to be part of the bloodline that almost ended the world as we know it, along with my previous Daedric experiences, made me very wary of Silus from the beginning. When he asked if I would be willing to help him find the scattered pieces of Mehrune's Razor -- for his museum display only, he assured me -- I agreed, but fully expected to end up killing him at the end of the quest; I assumed that once Silus got the fragments of that powerful weapon in his hands, he would find a way to restore it and use it to restore the legendary doomsday cult -- something I could not allow.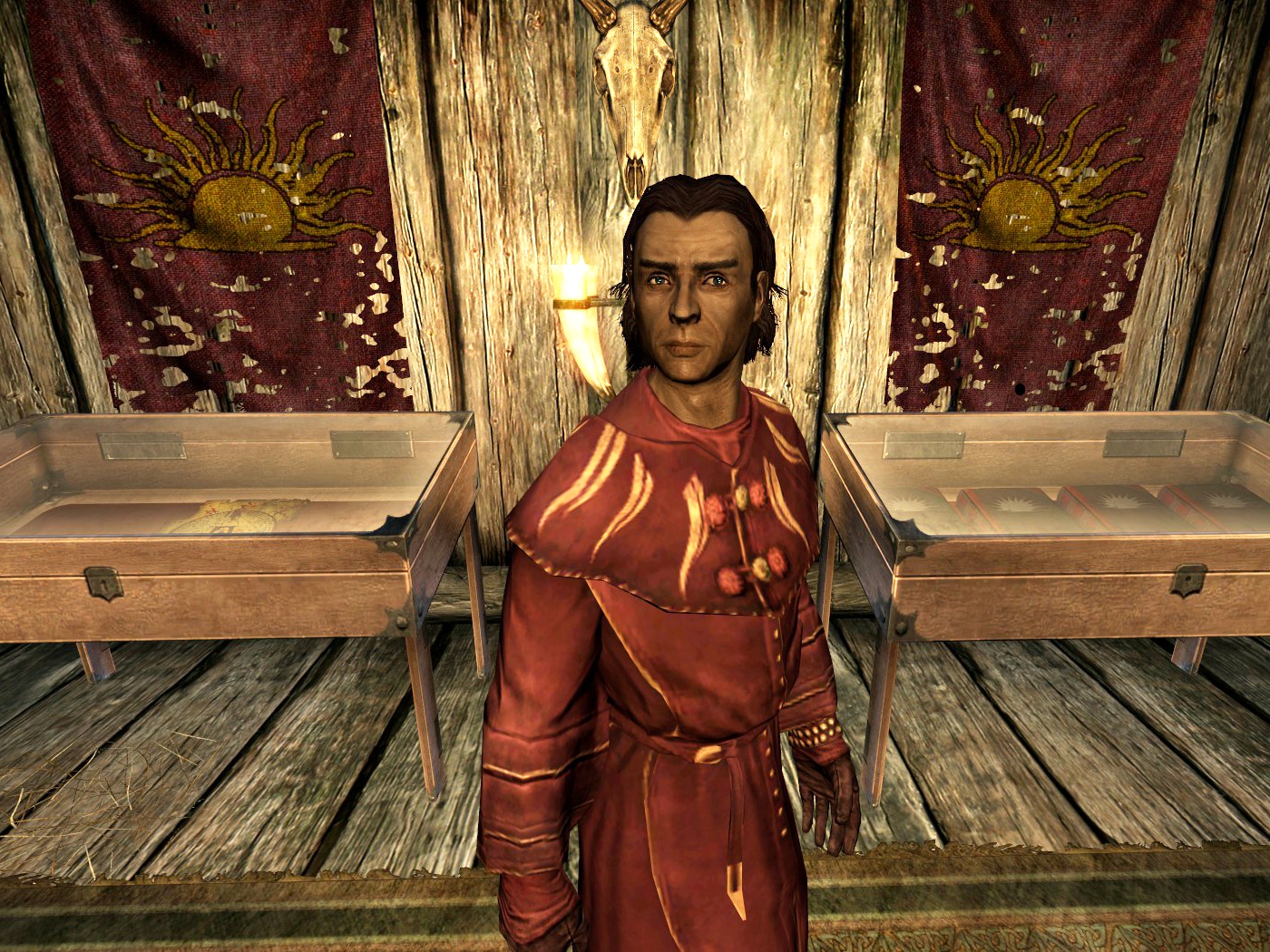 I kid you not -- the original caption for this UESPWiki image is: "This can't possibly end well..."
The first stage of the quest focused on finding the three pieces of the Razor, scattered all over Skyrim. Two of the pieces involved standard raids on orc bandits and hagraven cults, but the third piece was held by Jorgen, a law-abiding citizen of Morthal. I approached Jorgen and asked him to give me the hilt of the Razor; when he refused, I tried to Persuade him, but he resisited, citing a very reasonable argument that no good could come from collecting the pieces. I was now left with a serious dilemma. Silus seemed rather driven, so if I could not collect the final fragment peacefully, he might try to collect it through violence. Furthermore, as much as I agreed with Jorgen's reasoning, I knew that I, as Dovahkiin, was in a better position to prevent disaster than he was. I therefore decided that theft was my best option from a moral perspective. Jorgen didn't need or even want the artifact; he was holding it for the greater good. Because I could not convince him to give me the hilt, I was placed in the paradoxical position of stealing from Jorgen in order to fulfill his noble intent.
That done, I returned to Silus with the pieces. He then informed me that we would need to go to the Shrine of Mehrunes Dagon to repair the Razor. When I voiced my discomfort with that plan, he left to do the deed on his own. Having failed to dissuade Silus, I knew that I would have to supervise him, because I fully expected him to repair the Razor and use it to, if not try to summon the Daedric Prince once again, at least wreak havoc on the townspeople. When we finally got to the shrine, I was surprised to find that Silus could not repair the Razor, despite his supplications to Mehrunes Dagon. He asked if I would try, and keeping in mind the necessity of controlling this potential disaster, I agreed. Despite my established distaste for dealing with Daedra, Mehrunes Dagon seemed willing to speak to me rather than the Mythic Dawn devotee. The Daedric Prince told me that he would be willing to repair the Razor only if I agreed to kill Silus. I had thus been presented with the second major moral dilemma in this quest.
So far, Silus had only shown the potential to do evil; his obsession with the Mythic Dawn aside, he had not actually done anything wrong. Because he had not attacked, provoked, or even given me a good reason to do so, killing him would be an act of murder. On the other hand, I had little doubt that, had our positions been reversed, he would not have hesitated to kill me in order to obtain the artifact. Another factor in the dilemma was the artifact itself. Like Dawnbreaker, Mehrune's Razor is a powerful weapon that could have helped me in my quest to rid Skyrim of its monsters. It might be worth the life of a man who was probably up to no good anyway.
It was that "probably" that finally persuaded me to spare Silus and purposely fail the quest. I simply could not justify killing a man who had done nothing wrong yet. He might be a weak-willed fool, but he had not actually hurt anyone to date. Furthermore, if I'm being honest, I relished the idea of telling Mehrunes Dagon to get stuffed, especially if it meant doing battle with him or his minions as a result. When I declared my refusal to sacrifice Silus, I got my wish: Mehrunes Dagon summoned two Dremora to dispatch Silus and me -- naturally, they failed.
For his part, Silus was grateful for my decision and promised to keep the fragments of the Razor on display under lock and key in his museum. So far, he has kept his word, but if he ever changes his mind, I might have to change mine.