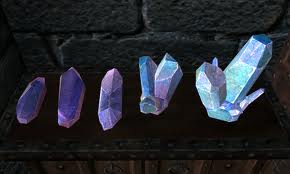 Soul gems are the "batteries" that power enchanted objects in

The Elder Scrolls

universe. In order to enchant or recharge an item, one must use a soul gem in much the same way as one might empty a gas can into one's car. In fact, the PC can fill an empty soul gem by killing a creature or NPC while a Soul Trap is in effect (either through a spell or a weapon enchantment). Given the prevalence of magic items in

TES

games, the filling and expending of soul gems in an integral part of gameplay in

Skyrim

.
The potential moral issue arises from the lack of clarity regarding the in-game definition of "soul." While the game tends toward a Western paradigm regarding the soul -- that is, the soul as the immaterial essence of an individual's identity, connected to yet distinct from both body and mind because it exists after both are gone -- the composition of the purplish energy that emanates from a slain, Soul-Trapped enemy is a bit of a mystery.
Some

TES

sources claim that the personal, conscious soul is trapped in the gem as potential energy, only to be released when the charge is depleted. If so, then the trapping of a soul within the gem would seem a bit like torture, and would be very hard fate for me to justify, even for an enemy. After all, when I am killing opponents, it is usually only because my opponents are trying to kill me or someone else, not because I wish them to suffer some kind of existential torment.
Others claim that the "souls" are not souls in the Western sense, but rather a kind of "life force" that powers the body. This non-personal model regards the soul as similar to other substances associated with life, such as blood or hair or breath. As such, the soul can be harvested under the same kinds of guidelines that one might use when taking anything else from a dead body, without worrying that the consciousness of the person is somehow enslaved by the process.
Although I routinely collect and use enemies souls, I am still not entirely certain which view is more accurate. Obviously, I am prejudiced toward the latter view because I would hate to think that I am entrapping the immortal essence of sentient beings for my own personal use. Even so, I would argue that the second model makes more sense:
Man, Mer, and Beast races of humanoids have souls, but so do Mudcrabs and Charuses (albeit "smaller" souls that require smaller gems). I therefore doubt that the word "soul" here is equivalent to "transcendent personhood."

In the quest entitled The Black Star, a mage perverts a soul gem so that he could enter it while still alive. When I went inside this gem myself to expel him, I was also conscious. Because this act was so extraordinary, I would assume that normally, souls are not conscious entities with the gem.

But for the exception above, soul gems are never associated with particular people, nor is anyone's personality brought back by enchanting an item with a soul gem.
I am therefore going to continue to play under the assumption that soul gems contain an impersonal life force rather than a personality. If I have no moral trouble looting from a dead opponent, I should have no problem harvesting its "soul."